Using Virtual Checks with
What is a Virtual Check? (You must have a U.S. based checking account to use VirtualCheck)
Using special software and the information provided, you authorize us to produce a legal check for this transaction only. Our software prints this check that we deposit into our account just as we would one you mailed us. The difference is time. Instead of waiting days for the mail - we can process your order in moments. You will then receive the check we produced with your other cancelled checks in your normal bank statement.
How do I do this? Very simple. First, get out your check book. Then you have two options on how to send us the needed data - via secure online order form or via FAX.
Go to the next available check you would normally write. For your records, fill it out to eBusiness Builders in the amount of your total order. Next, write VOID across this check. You will provide us with the actual check number - but not the actual check. Next, use the graphic below to locate the information we will need. You can place the numbers in red on your voided check for reference when you proceed to the Secure Virtual Check Form.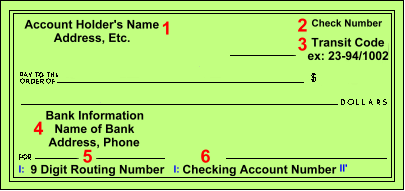 1. Your Personal Information
2. The Check Number
3. Transit Code - looks like a fraction
4. Your U.S. Bank Information
5. The 9 Digit Routing Number
6. Your Checking Account Number
If you have any questions about the information needed or the process involved - please feel free to Email us at YOUR EMAIL ADDRESS
ORDER FORM
Please note: Although it is most unlikely that you will experience any problems responding to this form, certain non-standard browsers will not respond properly. If you experience any difficulties, (or if you are not using a forms-capable browser) you may email the information requested on this form to: ebusinessbuilders@web.com
Your Product Information
Product Choices
More Product Info
More Choices
Delete this row if not needed
Name of Authorizing Person
Name as on Check 1
Your Complete Address and
Additional Information as it
appears on Check
Daytime Phone
E-Mail address for Replies
Please double-check!
Check Number 2
Use actual check number then
void the check.
Transit Code (ex:63-751/1002)
(looks like a fraction) 3
Bank Name/Branch 4
Address
City, State, Zip

Bank Area Code and Phone Number
Order will not be processed without this phone number
9 Digit Routing Number 5
Checking Account Number 6
Please enter your initials in the box - your order CAN NOT be processed without them.
My Initials in the box authorizes eBusiness Builders to use the
above information to generate a VirtualCheck for the Order Total. This
authorization is for this transaction only. I understand eBusiness Builders
will send a duplicate voucher receipt of the VirtualCheck draft upon my request.

Questions or Comments